Bridge Inspection Services
Bridge Inspection Melbourne
Bridges are important structures in modern infrastructure as they connect two places over a mass of water or valley. Their construction will usually require a huge investment as they can be incredibly complex pieces of engineering. Regular inspection and maintenance of bridges is crucial to ensuring they offer maximum safety and the length of service envisioned when they were designed. Instituting and adhering to a maintenance schedule will help keep your bridge in optimal condition year by year, guaranteeing the safety of its users.
Kapcher provides you with the data you need to conduct effective maintenance of your bridge. Our asset management inspection service will provide you with accurate models of the structure to help you pinpoint areas where cracks, corrosion or spalling may arise. Using cutting-edge 3D laser scanning and aerial imaging technology, we will provide you with a more comprehensive view of the bridge than on-site technicians can. In this way we eliminate potentially costly human error from bridge inspections.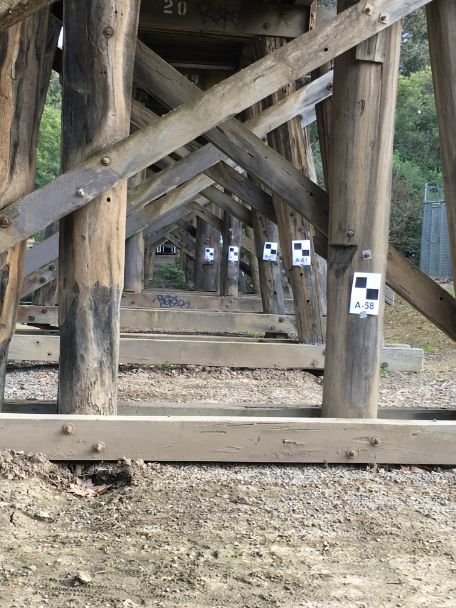 We offer different types of inspection to address different points in the maintenance lifecycle of a bridge. Here are the three levels of bridge inspection and how they contribute to the condition of the bridge.
The most basic level of bridge inspection where areas that need urgent repair, routine maintenance or further analysis are identified. Such inspections are part of the routine servicing of the bridges and surrounding road reserve which is ordinarily carried out twice a year.
This level is more concerned with projecting future maintenance requirements. Done biannually, it is concerned more with establishing maintenance needs, prioritising them and estimating a budget for the execution. Another objective of this general inspection is to forecast the deterioration in the condition of the bridge over time.
Here inspection is done to deal with an issue that has been identified with the structure. It involves a combination of inspection and using analysis of data to extract detailed information about the condition of the bridge. Based on the knowledge of the structure's condition obtained, decision-makers will be equipped to select the best available structural management option.
By leveraging on technologies like LiDAR and photogrammetry to remotely gather data about your bridge, Kapcher can create a precise 3D representation of a bridge. This ensures we are able to optimize all three bridge inspection levels. This data capture and modelling technology is especially useful to the third level where decisions for strategic asset management need to be made. This is achieved through ground based and using drones for bridge inspections.
Bridge Inspection Challenges
Obtaining accurate data surrounding an asset such as a bridge is vital to creating a maintenance program that ensures its longevity and the safety of its users. As with all inspections, there are challenges that data collection can incur. Some of these include:
Inability to fully access the site

Lack of an archiving system to store data for future reference

Overlooking some faults on the structure

Gathering inadequate information from the site

Not being able to immediately return to the site to get more data on a specific area of interest

Loss of data

Getting technicians on the site 

Coordinating the meeting of all required technicians on site
How Kapcher Helps You Overcome Inspection Challenges
Enhancing efficiency Field technicians may take a long time conducting a survey of your bridge but still not be able to give you a comprehensive picture of its condition. They may spend a lot of time trying to locate a problem that Kapcher's solution will pinpoint in a fraction of the time.
Greater accuracy One of Kapcher's key selling points is that it does away with a lot of the guesswork that goes into conventional bridge inspections. Scrutinising photos taken from traditional inspections manually opens the possibility of anomalies being overlooked. With Kapcher's solution, defects are detected and a 3D model of the structure generated, allowing you to easily envision where faults are present. Instead of having to travel to the site to collect data, you can rely on our digitisation software to give you to-the-millimetre data on the asset in just a few clicks.
Enhancing safety Bridges that stand over masses of deep water can present a hazard to technicians conducting physical inspections. Reaching certain areas can necessitate the use of special equipment but still put the lives of the people involved at risk. Kapcher utilises several data collection options available including drones, helicopters and by boat. This allows us to gather data from all angles, including precarious elevations, while eliminating the need for exposure to risk.
Enhancing accessibility The areas of the bridge technicians find hard-to-reach will be captured by the imaging cameras or the laser scanning device mounted on a drone or helicopter. Kapcher even has the technology to make sure that sections of a bridge submerged under water can be clearly envisioned in the 3D model of the structure. This is just one way Kapcher makes a site more accessible for asset inspection and data collection. With the textured 3D models our team are able to create, you're able to inspect the bridge remotely and make maintenance calls without the need for a site visit. This reduces time spent on physical site meetings and streamlines your management process.
Data archive Our digital representations provide historical archives of data collected during past inspections. Having a historical view of the bridge is important to help you keep track of the condition of your asset so that any deterioration over time can be observed. Kapcher will present you with data sets collected over the lifespan of the asset. This allows you to make more informed decisions around the maintenance of the bridge. This is a more strategic approach to asset management that allows you to monitor the condition of the asset and recommend remedial measures well before major repairs are required.